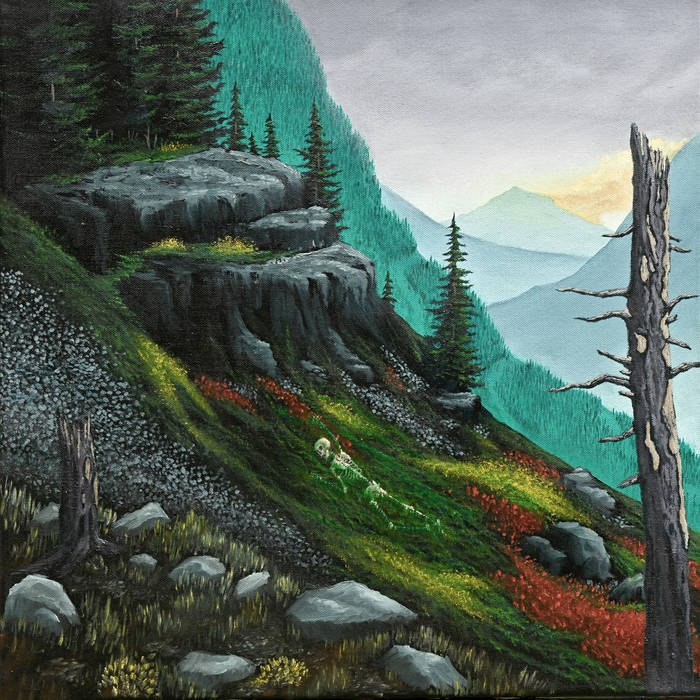 It is with pride that we reach this spectacular brand. Many bands have passed through here. But now we were close to our home country. But, it had to be a special band.This is the case of Alda and they mark our historic 900 Interview. They show us their fourth album titled A Distant Fire. Their Style combines cruel Black Metal with the atmospheres of nature. Not that there aren't any bands that already do that. ,but the curious thing is that they are North Americans.The band consists of: Michael Korchonnoff as Vocalist, Drummer and also plays a Bodhrán, Stephanie Knittle as Bassist, Vocalist and Violinist and Timothy Brown and Jace Bruton as Guitarists. Michael answered our questions. their great emotions. Emotions at 900 degrees. Let's go to their song before the chat.
TC 1:Talking about the composition work in A Distant Fire?
Michael Korchonnoff:After a year and half hiatus of rehearsing, we slowly started working on new music in the Summer of 2017. In the latter half of 2018, we started seriously writing music for our fourth album, completing the writing process at the end of 2019. We tracked most of the music in January and February of 2020, and shortly after that the Covid-19 pandemic landed in the US. This slowed down the mixing, mastering, and physical production of the album quite a bit, but now finally in the Fall of 2021 we are able to share this music with the world.
TC 2:What´s band mean with Cascadian Black Metal?
Michael Korchonoff:Cascadian Black Metal is a name some people invented to label a scene of Black Metal bands in the Pacific Northwest of the USA and Canada who typically have a focus on nature in their music. The word "Cascadian" refers to the Cascade Mountain Range, and the Cascadian region is understood to be the land that lies in between this mountain range and the Pacific coast.
TC 3:Your Sound has a certain pagan texture. Are the members also or is it unique to the project they are part of?
Michael Korchonoff:The members of Alda are not religiously Pagan, but we do have beliefs about nature and the universe that could be described as Panthiest. Pagan mythology and symbolism is something that has some personal meaning to us though, and we use some of this symbolism in our band art.
TC 4:How come emerged the invites to Marit Schmidt and Jake Superchi?
Michael Korchonoff:Marit Schmidt is an old friend of ours who plays in a band called Vradiazei that we love a lot. We have also known Jake Superchi for many years as well, and we used to see his old band Ceremonial Castings play live back when we were teenagers. Alda has also performed shows with his band Uada several times. Jake offered to record us when we were writing the album, and we were happy to receive his help.
TC 5:What´s the idea behind artwork´s album?
Michael Korchonoff:The landscape in the painting represents the North Cascades, the region where we live. The skeleton on the slope represents the futility of human striving and endeavors, and the smoke in the distance represents the great ecological disaster that is coming in our future.
TC 6:How band arrive to Eisenwald Records?
Michael Korchonoff:When, we recorded our 3rd album Passage, our label at the time was Bindrune Recordings, who had entered into a partnership with Eisenwald records for distribution in Europe. Bindrune and Eisenwald later ended this partnership, but we stayed in contact with Eisenwald and they re-released all of our previous albums. We have stayed working with them since this time.
TC 7:What´s band mean with Atavistic reclamation of the world?
Michael Korchonoff:We do not know what that means. That is something someone wrote on our Encyclopaedia Metallum page, which we did not create.
TC 8:It is apparent that you drank from the fountain of the Lord of the Rings creator, but besides him another writer deserves the band's honorable attention?
Michael Korchonoff:There are many writers and books who we respect. Here are three titles of books that inspired us in our early days: One Man's Wilderness by Sam Keith adapted from the journals of Richard Proenneke, Heartsblood by David Petersen, and Black Elk Speaks by Black Elk.
TC 9:How is Alda different from your previous bands?
Michael Korchonoff:Anything that came before Alda was messy high-school music, and we were still young when we began Alda, between the ages of 18 and 21. So Alda feels like our first real band to us.
TC 10:This album is conceptual?yes or no and why?
Michael Korchonoff:The album is conceptual, but we did not intend to write a concept album when we began composing the songs for the album. This being said, A Distant Fire tells a story about navigating a path through a destroyed land in the darkness of night. The only light that illuminates this path is a distant glow, but we will not know whether the glow is the rising sun of dawn, or if it is the glow of the inferno that destroyed the land we travel through. This is a metaphor describing the journey humanity traverses in the global ecological disaster we are all experiencing in the present day.
TC 11:Combining the tranquility with the evil of Black Metal is something the band performs well. But, is this because the band likes the contradictory?
Michael Korchonoff:The way Alda creates music is not at all intended to be contradictory. The variety of sounds that exist in our music is there because that's what sounds good to our ears, and also because that is the sound of some of the bands that have been very influential on our music, like Agalloch, Ulver, Drukh and others.
TC 12:Who had the idea of bringing folk into the band's sound and how is it used?
Michael Korchonoff:All four of us had the idea of bringing acoustic elements into our songs. This is most likely because of the bands that influenced us the most, and the way they wrote their songs with acoustic sections in them. It's a sound we've always loved, and acoustic albums by metal bands such as "Kveldssanger" by Ulver, or "The White EP" by Agalloch had a strong influence on us.
TC 13:It's not very common to see a black metal band in the USA, is this for the band going out of the ordinary?
Michael Korchonoff:Black Metal in the USA is actually pretty common, especially in the West-coast states of Washington, Oregon and California. We have played many shows with dozens of Black metal bands from all over the US, so Alda is really not going that far out of the ordinary in the music that we play. Even locally in the Pacific Northwest, we have friends in bands like Mania, Felled, Uada, Fauna, L'Acephale, Addaura, Wolves in the Throne Room, Druden, Harrow and others that we have known and played shows with for many years. Further out east there are great bands we have played with like Panopticon, Falls of Rauros, Woman is the Earth, Vukari and many others. We mention all these names just to point out that it is actually a pretty large scene of Black Metal music out here, and all of these bands are really worth checking out. We are sure there is lots of great music of this kind in Central and South America and in countries like Brazil too!
TC 14:What kind of subject don´t deserve an Alda Song?
Michael Korchonoff:Although we have written songs that discuss religion in an indirect way, you will probably never hear Alda write a song about Satan or Jesus, because the subjects and beliefs of Christianity is really not interesting for us to write about. Alda mostly writes about the relationship humanity has to the forces of nature, and about our history with this relationship. We also write about death and futility, but this accompanies our writings about nature.
TC 15:The band feel differences between Passage and now in A Distant Fire?
Michael Korchonoff:Passage was a much slower-moving and more atmospheric album. The songs on A Distant Fire are harsher, faster, and more technical. Although they carry much of the same spirit between them, they are very different albums musically, and we were in different places in our lives when we created them.
TC 16:What´s band mean with Loo-Wit?
Michael Korchonoff:Loo-Wit is a Native American name for Mount St. Helens, which is a volcano in Washington State that erupted in 1980, and the most massive volcanic eruption in US history so far. Jace from Alda is a hunter who spends a lot of time around this volcano, and named the interlude on the album in its honor.
TC 17:Message to the fans,guys.the interview is done!
Michael Korchonoff:For our old fans, thank you for accompanying us on this long journey and for your patience and loyalty. To our new fans and our old fans, we hope to meet you on tour someday.