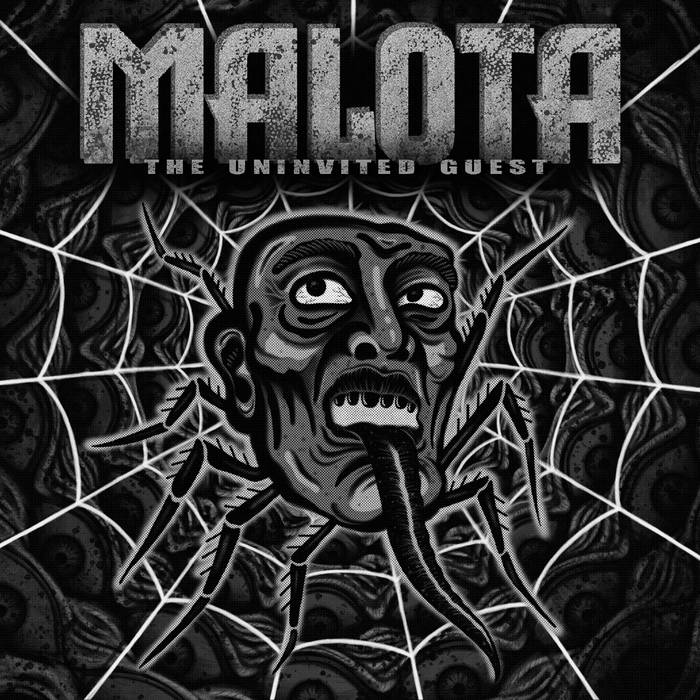 Italy has always given us great metal bands.This time, we won from this country a band that makes a wonderful sound dense and full of weight. The weight comes from their own sound, the dense side comes from the reason that the band plays a smart mix of Doom, Sludge, Punk and Hard Rock.The Conservative Storm arrives in its 917 Interview with Banda Malota.The band shows us their EP titled as The Uninvited Guest.The band have this formation:Max On Bass and Vocals,Massimo and Alberto On Guitars and Mariuz on Drums.Max answer our questions.This interview that you will follow in all your extreme emotions. Before that, let's go to their song.
TC 1:Talking about the composition work in The Uninvited Guest?
Max:The Uninvited Guest's born during an hard moment for the band, we've been touched by the death of a friend, illness of our relatives and problems in the band due to needs for personal changes.Musically, we work by jamming on single riffs, then the lyrics come.
TC 2:Who are these ministers of fear that the band is referring to in the third song?
Max:Ministers of fear are people dividing us using fear, hate, lies. In Italy, we have a strong cult of the elders, forgetting that we are constantly chained by their failing past choices. In fact, in the song, we scream loud that in our country wise old men died young!So, ministers of fear are the people squeezing us in parliaments, factories, offices, under their fat asses.
TC 3:In the fourth song, the band refers to a queen. Is she a loved one by the band or is she a woman imagined by the band?
Max:The Queen, the Lady is basically Death herself. She's not unearthly, she is not something you can or should escape: she's always with us and we have to accept it by living our life at the best. She'll come for everyone but until that day we've got a lot to do!
TC 4:Some Literature or film inspire the band?
Max:The past album's Космонавт lyrics and mood were inspired by sci-fi and uchronic literature, for "The Uninvited Guest" we simply had a look at reality as it is, cause life is the best and the worst piece of theatre ever wrote!
TC 5:I know the band has released new material for this year, but this question needs to be asked. Why did the band make an album with the name in Russian?
Max:I'm personally fascinated by everything coming from eastern Europe, from the history to architecture, passing by food and mentality. I love sovietic space program too and the stories around the first cosmonauts!
TC 6:Since the band has a romantic relationship with nihilism. A very Nietzschean question. Is Remorse indecent?
Max:Remorse is not indecent if it evolves in reviewing our way of thinking and our choices. It should be a spark to fix and improve things, it could be the key of evolving our inner being. Remorse remains remorse if you're not ready to change, is not incoherence, is the human nature.
TC 7:Is Lampeduza is the band's own version of Medusa?
Max:Lampedusa" is the daily 'The Raft of the Medusa' happening in our seas, where human beings, trying to reach our lands to have a better life, are dying under the first world's eyes, eyes which some times enjoy the sight of these people dying in the sea.Lampedusa is the name of the very southernmost Italian island, where most ships of hope arrive.
TC 8:We had here in Brazil a journalist called Paulo Francis and he said that intelligence is contradictory. Can we say that the name of the album is also contradictory?
Max:Yes, as life is!
TC 9:Why the band have this name?
Max:Apart from the Spanish meaning we all know, Malota is a dialect term from southern Italy that indicates the red cockroach, a small being carrier of diseases.
TC 10:What kind of subject don´t deserve a Malota Song?
Max:Hate.
TC 11:How band arrive to Go Down Records?
Max:Max of GoDown Records attended a show where we played Космонавт live, showing interest in our music and offered his help for the release of the next album.
TC 12:What´s the idea behind artwork´s album?
Max:Every Malota's album has an insect-like character on the cover, the one on The Uninvited Guest EP represents the web in which we suffer when we fall into the depths of fear. Every Malota's artwork is created by our drummer Mariuz.
TC 13:How is Malota different from your previous bands?
Max:Malota put together each musical experience and taste of band members coming from totally different scenes and genres. We can say that Malota is different from our former bands 'cause it has everything we learned from those bands!
TC 14:Romanticism in a very superficial way has a malaise with modernity. Can we say that Malota also nurtures this malaise?
Max:We don't like to be overwhelmed by things and people, we just try to improve our reality, little by little, using the modernity without being used by it. We live in the present, the present is full of modernity, modernity helps us to live better. Sometimes we just need to take a break from it bathing in nature and love.
TC 15:The band feel differences between Космонавт and now in The Uninvited Guest?
Max:Sure ,we do! Let me say something: sometimes people don't like or don't understand our stylistic changes from a release to another or just into the same album! We don't like to follow trends, we don't like to walk easy paths, we like to write and play what we feel in a certain moment. We like to explore new sounds and new music. You know the reason why? 'Cause we don't live with our music, we work hard in factories and offices, when we play we don't want to follow other rules or routines. We only do what makes us feel better.
TC 16:Is anger a legitimate daughter of war?
Max:Anger is a legitimate daughter of hatred, anger and injustice, the wars we fight everyday.
TC 17:Before music,what the bands loves to doing?
Max:Passing time with our families and friend, traveling, reading good books and watching good movies!
TC 18:Message to the fans,guys.The interview is done!
Max:Just love everything that makes you feel better with no fear of being labeled or judged and listen to Malota, of course.