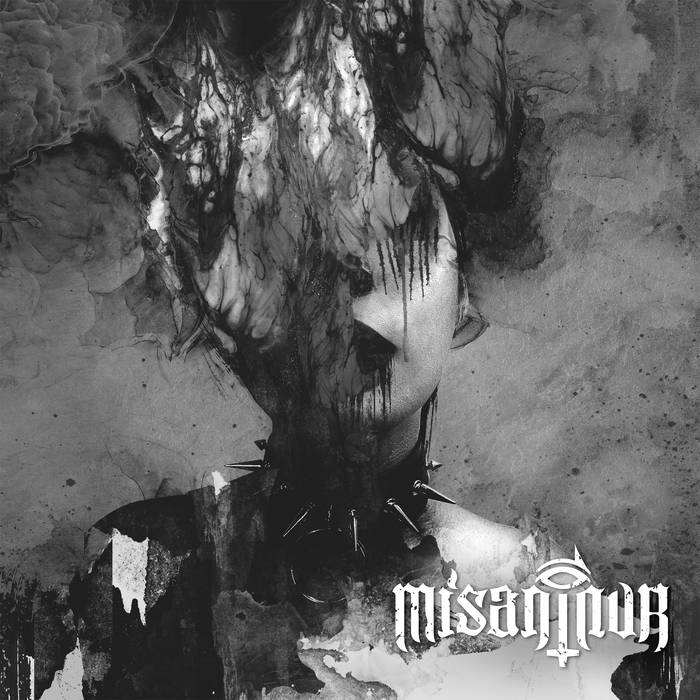 Polish Metal has always been famous for giving the world the extreme. This band that marks our 918 Interview is one more that does this in a brutal, scary and full of talent and intensity way.We talking with Polish Band Misanthur and the band show for us your frist album entitled Ephemeris.In fact, the band is a duo. But that doesn't mean they don't have the capacity. On the contrary, they get with their Black Metal mixed with Doom Metal, an aggressive and raw sound.The Duo is:Hellscythe on Vocal,Guitar,Synthesizers and Programming of Drums and Draugr on Bass Guitar and Drum Programming.Hellscythe answer our questions.The interview that you will follow in all your extreme emotions will start right away. But before that, a song from them.
TC 1:Talking about the Composition work in Ephemeris?
Hellscythe:Nothing is calculated there, whole "Ephemeris" were written while being heavily driven by emotions we felt. Part after part, fragment after fragment, word after word. Some reviewers state that our music sounds like bipolar disorder and we pretty much can agree with that, although it was never meant to be like that, it just took this form. It formed itself and now it crawls where it wants to.
TC 2:What band mean with Evanescence nature of human life?
Hellscythe:Ephemeris means something evanescent, transitory, and those were the meanings we were interested in the most. Our "Ephemeris" is a journey telling about an everlasting struggle in a short lived human life. The fight that one is going through – the fight with the most dangerous enemy, oneself. Armed with our ids, egos & superegos, we focused on showing the bitterness & hopelessness of existence, but also some of the beauty & joy one is able to feel at the times.
TC 3:What kinds of changes do you want to talk about on this album?
Hellscythe:Changes in one's perception of reality. It's like, there are situations where you have a problem with something, and within a long time you cannot see the true source of the problem. You can blame others, the system, society, etc.But without going beyond your regular pattern of being you will always see what you've seen before.
TC 4:How come emerged the invite to Agnieszka Leciak?
Hellscythe:Agnieszka is our friend and her ethereal voice was a must for the "Essence". When we were writing and producing this piece, we were strongly inspired by trip-hop acts like Massive Attack or Portishead. We wanted to check the outcome of synthesis of those with some industrial, doomy, slow metal & subtle, sublime vocals on top of that. It was a great decision that we're very proud of.
TC 5:Is it possible to see a bit of doom in your sound or was it just an impression of this philosopher\journalist?
Hellscythe:Of course it is possible. Anxiety is very strong in us, "abstract" fear lurks in every corner, border or borderline I should say emotions accompany us in every step we take. That probably makes our music very doomy in terms of genre and moreover in terms of atmosphere. At the end, please remember we're the doom prophets, you know, we must be apocalyptic. The world will fall deal with it.
TC 6:How is Misanthur different from your previous bands?
Hellscythe:There were no previous bands, only writing to the closet.
TC 7:How come band arrive to Season Of Mist Records?
Hellscythe:Season of Mist founder Michael Berberian wrote to us one day and asked if we have some recording deal. He probably found our demo on bandcamp and liked it, which led us to signing the contract & release of our debut album Ephemeris. Nothing more, nothing less.
TC 8:What´s the idea behind artwork´s album?
Hellscythe:The main theme is humanity in it's dark & light duality in particular. BDSM is moody, aggressive, angry, but also sensitive, full of emotions, love, and, don't forget about that sexy, those are the adjectives you can successfully describe "Ephemeris". BDSM also requires courage & trust to do it, to stand fragile & vulnerable afront to a partner. We care about creating a bond with a listener, to gain one's trust so that he can lose himself in our art and feel that we also understand his emotions. The whole artwork is also very dirty, messy but you still can grasp some beautiful, chaotic order in it. Januz Miralles did great work designing it, we think it has everything good artwork needs.
TC 9:Some literature or film inspire the band?
Hellscythe:Oh, a lot! Thanks for asking! Let's see, "Enter the Void" is inspired mainly by the movie of the same title created by Gaspar Noe.Dense, narcotic atmosphere of getting lost and being helpless. I always imagine the first part of the song very similar to the first minutes of the film those that take place in the room of the main character. "On the Heights of Despair" takes its name & theme from the Romanian nihilistic philosopher Emil Cioran book of the same title. Depressive but at the same time kinda giving hope – that's the thing we like to do. "The Serpent Crawls" is a totally post-apo story, being the most disconnected joint of whole album, inspired by Andriej Tarkowski's "Stalker", with a pinch of bad trip vibe. This is just the tip of the iceberg, but I respect readers' time, so if someone is interested, just ask us.
TC 10:Why band have this name?
Hellscythe:The name does not mean anything completely at the first glimpse and it was our purpose. But in the deep we visualise Misanthur as a name of non-existing cosmic indifferent Lovecraftian eldritch god, that takes a form of emotions we currently express.
TC 11:Before music,what the band loves to doing?
Hellscythe:Draugr was very good at playing basketball so maybe we would know him for that if not music, for me probably some graphic or drawing things. If it comes to hobbies for both of us. Eating, watching movies, reading books, playing video games, partying, many other things. We can be funny, you won't get bored with us.
TC 12:To some extent in the third song, doesn't the band agree that we were already living in a time of despair and the pandemic only added to that feeling?
Hellscythe:Personally, we think that we lived in such a time even before the pandemic. The whole thing only made us go beyond our daily framework and enabled us to see problems that were previously invisible to us. It turned out that the system is not fair, favors the rich who in majority do not even pay taxes or pay really small part of them, poor countries doesn't have access to vaccines or free healthcare, the mental health of society is declining, fake news are all over the social media which polarizes society for own profit creating even more toxic messages, and all of this in the face of the looming climate catastrophe that will turn life on earth into a real hell. If we are not On the Heights of Despair then we are probably in the Bottomless Pit.
TC 13:This album is conceptual?yes or no and why?
Hellscythe:Yes, "Ephemeris" is a concept album in loosy way it even has a plot which we are planning to continue less loosely on next album.
TC 14:What kind of subject don´t deserve a Misanthur song?
Hellscythe:We don't feel like some subject doesn't deserve our focus, but there are many things that we're not interested in talking about in our songs. For example let's highlight gore death metal topics. It's really not our cup of tea. What we can tell you about are emotions especially heavy, philosophy, psychology, society, or spirituality.
TC 15:Making this album is great because it's the band's first work, but on a personal note, isn't it also a way to conquer your inner demons?
Hellscythe:Yes, we're glad you noticed it. Ephemeris is very therapeutic for us. We like to call it confrontational escapism transforming into nihilistic catharsis. There is a lot of pain in our songs, but at the end you also can feel some hope. Humanity is born to suffer but also to struggle within this suffering.
TC 16:Message to the fans,interview is done!
Hellscythe:Thank you very much for your time with us, take care of yourself & see you in the void!Kind regards, Felipe!