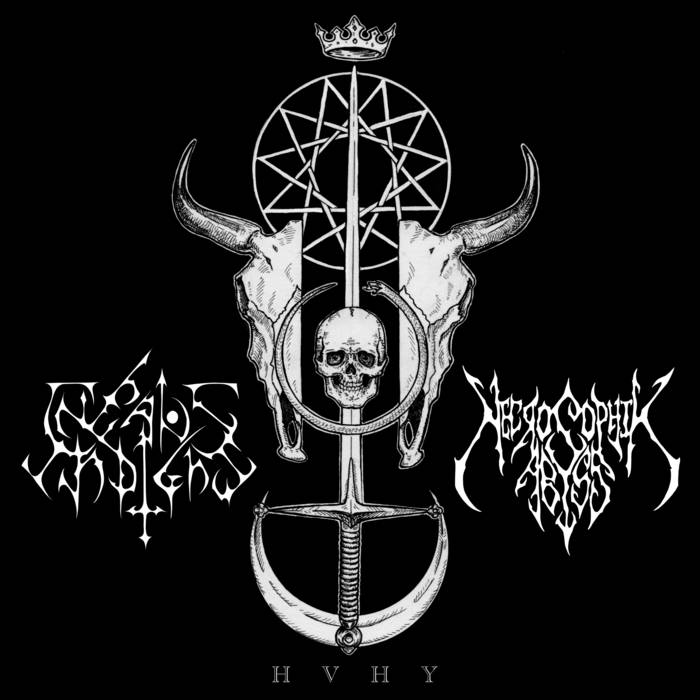 The United States has always given us excellent metal bands, but this time they gave something that was difficult to happen. It's not because of the talent and determination of some people anymore. We are talking about Black Metal, something that in the past was little explored by the North American headbangers.Marking Interview 923 of our dear Conservative Storm, we talk to American Black Metal band Necrosophik Abyss.The band recently shows us their ep together with the American Black Metal Band called Cyffrous Indignus and this split ep is called HVHY.The band is formed by:Josh Von on Vocal,Clay Price on Frist Guitar,Theo Romeo on Second Guitar and Gianni Di Giacomo on Third Guitar,Igor Panasewicz on Bass and Spy on Drums.Gianni answer our questions.Before you can follow our conversation in all your emotions, let's go to their song and remembering that we also did an interview with the other end of Split, which is the band Cyffrous Indignus.
TC 1:The evil of man inspires any metal musician. But why in Black Metal is this so explicit? 
Gianni Di Giacomo:I think it's the nature of the music, the black metal that influences us was created by people who wanted to change the narrative of heavy metal.  To change it from images of partying and exuberance to vile evil mystanthrophic themes. It has and always will be a genre drenched in blaspheme. 
TC 2:I love the band's orchestral arbode, but did it come from the idea of someone the band itself felt naturally? 
Gianni Di Giacomo:We took a huge risk to invite 3 guitar players into the band. Naturally over time our songs became alive and in turn birthed our process. Thank you for noticing our intentions, we write very close to an ensemble, filling in a bass, cello, viola and violin voicing, but instead of beauty we are striving for dissonance and menace.
TC 3:What is HVHY? 
Gianni Di Giacomo:Talk to a person who understands Hebrew and wait for their expression when you ask. 
TC 4:Do these lonely souls have piscological, philosophical or people aspects that are familiar to the band, but for obvious reasons are not mentioned? 
Gianni Di Giacomo:I have and will always be happy to nurture the gothic side. To live in loneliness is to find solitude, and to focus inward can create dark and enchanting art. We are for people who like the dark side of life and find it's mysterious beauty. 
TC 5:I don't know if they lived in violent environments or read stories of this nature. But, without a doubt, the band passes away from the satanic aura that always lingered in black metal correct? 
Gianni Di Giacomo:To play black metal, there is an almost blanket statement that we are openly professing Satanism. Although, we have our thoughts on how to approach that, we decided that we would allow the listener to find new themes outside of tales of the fall of the mourning star and cataclysm.  
TC 6:The band plans to do a full length? 
Gianni Di Giacomo:We are currently working on one, and are very excited to be in the process of creation. 
TC 7:What were the breakdowns that most influenced the band?
Gianni Di Giacomo:I couldn't speak for everyone, but I love bands like Old Man's Child,  Naglfar and Dark Funeral, those would be influences for black metal breakdowns. 
TC 8:How is Necrosophik Abyss different from your previous bands?
 Gianni Di Giacomo:My last band was a thrash/groove metal band, so it is very different, but still in the metal genre. 
TC 9:It would be correct or a good analogy to say that the band is a musical lotus flower. As it is in the public domain, does the lotus flower need mud and chaos to bear fruit? 
Gianni Di Giacomo:Absolutely, we write some of our best songs or come up with the best ideas when we are dealing with our own personal misery. To create music with such an impact we have to use our own experiences to be genuine. That goes both ways, when we write the powerful, charging parts, we are in great spirits and ready to conquer the world. 
TC 10:We know it's just a song, but could it be in future band projects? 
Gianni Di Giacomo:I'm not sure, I understand the song you're referring to. 
TC 11:What kind of subject doesn't deserve a Necrosophik Abyss song? 
Gianni Di Giacomo:Those that are opposed to extreme or dark music, feel free to look for other music. We write for those who enjoy the bands that influence us, we have no desire to bring pop fans into the black metal world. 
TC 12:Some literature or film helps band?
Gianni Di Giacomo:I am probably the least well read in the band. I would say that other members of the band are very into literature, and take influence from lots of books. There are many horror films that we love the imagery from. If you watch our video for "Frozen in Decay" you may find one. 
TC 13:How band arrive to Reaping Scythe Records? 
Gianni Di Giacomo:Reaping Scythe was created by the bands as a collective. Continue to follow as it grows.
TC 14:It may sound like a tired question, but it has to be asked. Do you also drink some of the classic Doom fountain for the band? 
Gianni Di Giacomo:I myself love doom, especially goth or funeral stuff. Paradise Lost comes to mind. I hope one day we have a funeral doom style song, maybe we will… 
TC 15:Message to the fans. 
Gianni Di Giacomo:Thank you to anyone who has supported us by listening to our music, buying our EP or Single, watching the video or reaching out with messages. We are excited to make our first live performance and to meet new friends and reconvene with our old crusty metal buds.